Housing in Malta for expats: rent and purchase, utility costs
Renting housing. Renting a 1-bedroom apartment may cost about €700‑€1,000 in high-dense towns in the north or centre of Malta, like Valletta, St Julian's or Sliema.
Prices for renting an apartment are lower in the south of Malta and the island of Gozo: these areas have less developed infrastructure and tourist flow. Renting a 1-bedroom apartment in Gozo costs €400‑500 a month, which is nearly twice lower as rentals in Valletta.
If you participate in Malta Permanent Residence Programme, there's a threshold of €10,000—€12,000 for yearly rentals, depending on the region. And if you wish to get Malta citizenship for exceptional services, you'll need to rent housing for at least €16,000 annually for five years.
Buying a property in Malta may be a profitable investment: real estate prices have grown by 4—6% annually for the last seven years. However, the process is quite time-consuming: finding an object and conducting the deal may take 3—6 months.
Average housing prices range from €1,000 to €8,500 per square metre. The price depends on the property's location, condition and other peculiarities.
Expats may buy properties in Special Designated Areas (SDA) without any restrictions. These are usually luxury development projects. But if a foreigner buys real estate in Malta outside SDAs, they need to obtain a permit for the acquisition of immovable property, and they can purchase a home in Malta only for themselves.
When buying an apartment or a villa in Malta, one must pay a 5% property tax and a 2‑7% stamp duty. There's no annual property tax, but the land tax may be levied; it is about €40—€250 a year.
An example of an SDA property to buy in Malta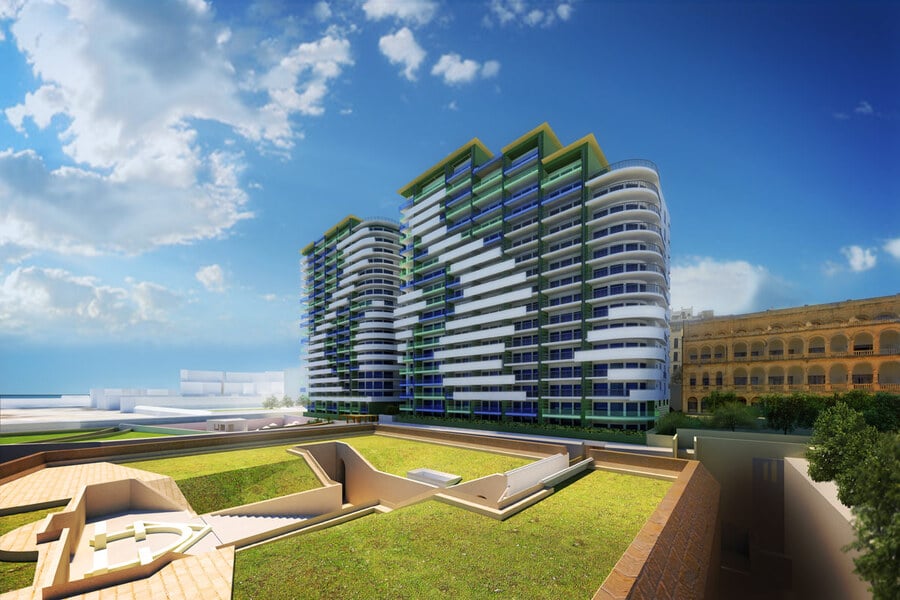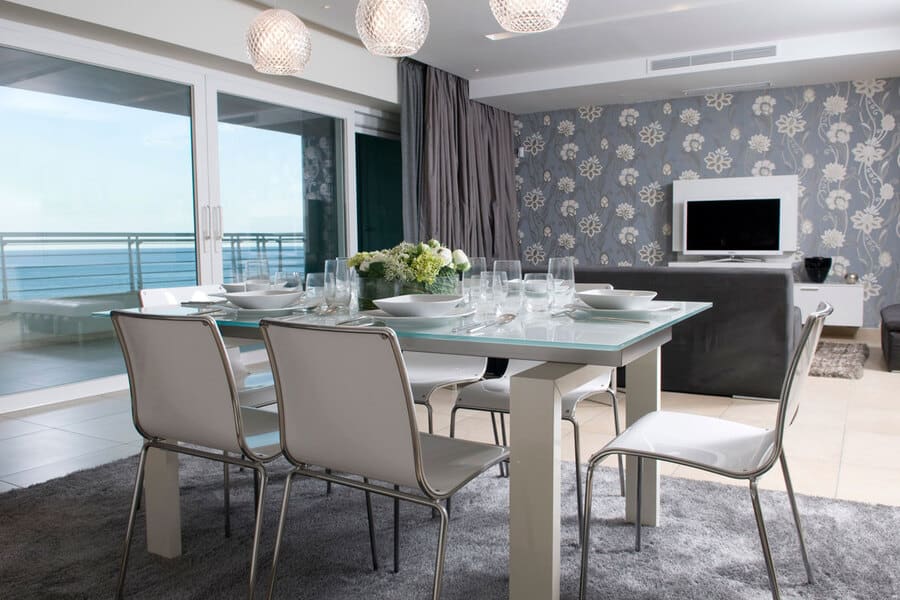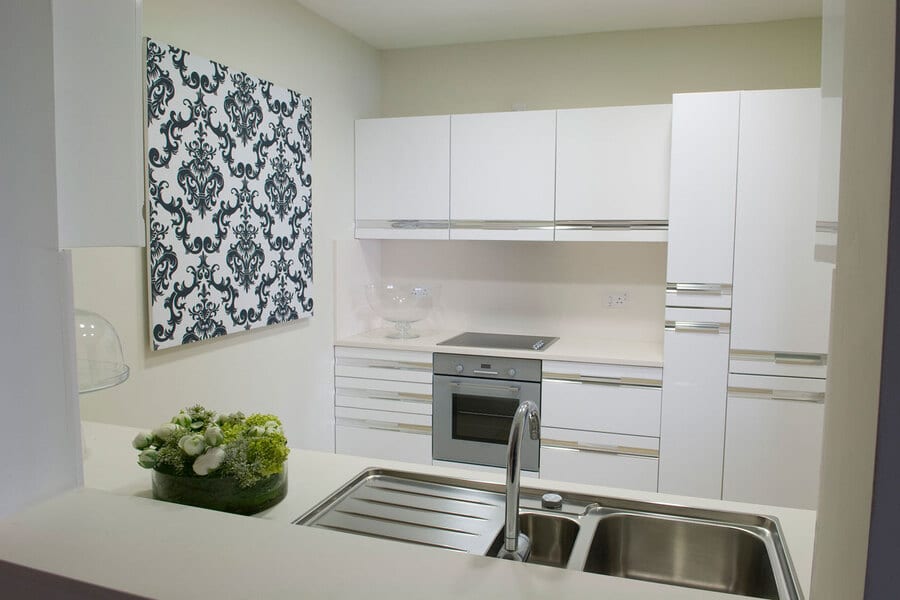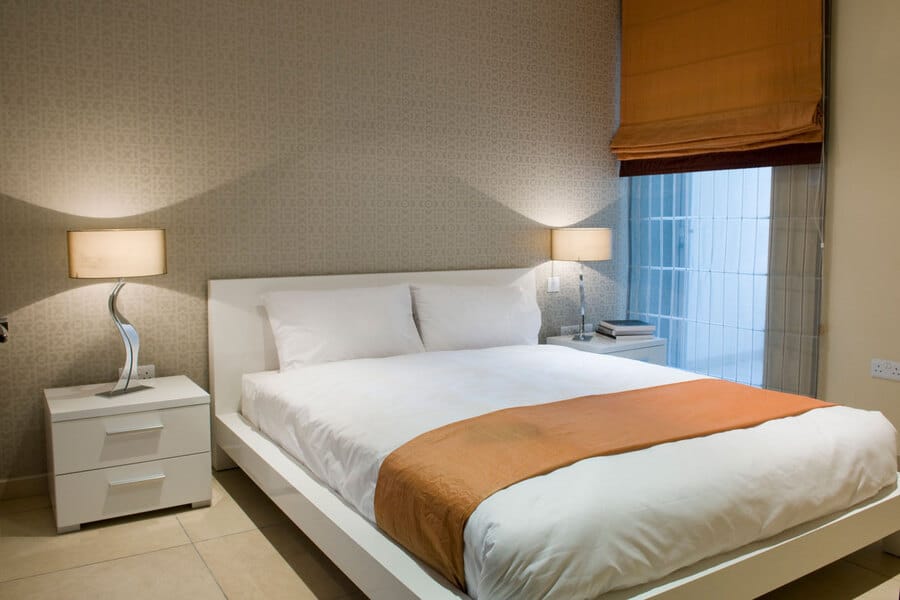 Utilities cost about €80—€150 a month for an apartment and may rise to €500—€1,000 for a villa or a luxury property in an SDA complex. This amount includes electricity, cold water, and building and plot maintenance.
The electricity tariff is €0.14—€0.70 per kWh depending on the consumption. If you want to charge an electric vehicle at home, you must install a special meter with a fee of €50—€80 and pay €4 to €6 for a monthly service charge. Prices on electricity for vehicles are about €0.13 per kWh if you charge them during off-peak time:
00:00 to 5:59 am;
12:00 to 15:59 pm;
or on Sundays.
Water tariffs depend on consumption, as the ones for electricity. They are €1.40—€5.14 per m3 of cold water. There's no central heating or hot water in Malta, so people use conditioners and heaters.
The state pays for waste disposal, and residents must separate waste for recycling.
Internet for a home costs €20 to €50 a month, depending on the provider and the speed you need.
Prices on food and eating out in Malta
Groceries. The cost of food depends on the region. If one moves to Valletta, the capital of Malta, or another famous touristic town, their expenses for most groceries and eating out will be much higher than they could be in another location, for example, on the island of Gozo.
Prices on fruit, vegetables and drinking water are higher in Malta than in other countries of Southern Europe, for example, Italy or Greece. The reason is that there is little fertile land due to the Maltese Archipelago's rocky terrain; there are also no freshwater sources. So fruits, vegetables, soil for plant growing and drinking water are imported to Malta from neighbouring Sicily.
Average prices on groceries in Malta
| | |
| --- | --- |
| Product | Price |
| Milk, 1 litre | €1.01 |
| White bread, a 500-gram loaf | €1.14 |
| Rice, 1 kg | €2.34 |
| Eggs, a dozen | €2.50 |
| Chicken Fillets, 1 kg | €7.57 |
| Apples, 1 kg | €2.61 |
| Oranges, 1 kg | €2.49 |
| Banana, 1 kg | €1.86 |
| Tomato, 1 kg | €2.65 |
| Potato, 1 kg | €1.87 |
| Onions, 1 kg | €2.06 |
| Lettuce, 1 head | €1.53 |
| Drinking water, 1.5 litre | €0.92 |
Source: Numbeo.com
Beverages. A can of Coke costs around €1.80, and for a cup of cappuccino, one will pay nearly €2.30. When it comes to alcohol, a bottle of mid-range wine in Malta costs about €6, and the one of domestic or imported beer is nearly €3.
Restaurants in Malta are worth attending to. The local cuisine is pretty diverse because it has formed under the impact of different nations' traditions. Seafood and fish are the basis of the Maltese dishes, and Italian dishes are widely spread on the local menus.
A three-course meal for two persons in a mid-range restaurant costs around €60. And if you prefer something gourmet and sophisticated, you can visit one of the Michelin-star restaurants in Malta:
Noni, Valletta;
De Mondion, Mdina;
Bahia, San Anton.
A meal in a Michelin restaurant will cost from €70 to €100 per person.
Transport prices in Malta
The area of Malta is 316 km2; it is 80 times smaller than the neighbouring island of Sicily. Everything you need is nearby, and public transport is well developed.
Bus tickets cost €1.50 in winter, and €2.00 in summer. If you travel at night, the ticket will cost €3.00. Travellers can purchase them directly from bus drivers.
If you travel a lot, a transport card may be better than buying cash tickets each time. There are several types of transport cards in Malta:
The personalised Tallinja Cards allow you to pay contactless. One journey fare is €0.75 for an adult and €0.25 for a child. The fee when registering is €15.
The Explore Flex Card allows one to save €0.15—€0.50 from every bus ride. Also, there are 24-hour, 4-day and 7-day passes with unlimited trips on all public transport in Malta.
The Explore Card allows you to explore Malta freely for seven days without additional charges on public buses and night routes.
The ExplorePlusMeep card allows one to travel on buses in Malta for seven days. In addition, the holder gets other benefits: for example, two trips on a ferry, two trips on a bike, and some sightseeing options.
The 12-Day Journey Card can be used by all family members, while the previous ones are for a single user. It includes 12 daytime bus trips or six nighttime trips.
Expats apply for the Tallinja card at the Malta Public Transport website. Non-personalised transport cards can be bought in the ticket offices or some shops.
Children under four travel on buses for free and don't need a card.
Ferries. A trip from Valletta to Sliema, or from Valletta to Isla and Bormla, costs €1.50 for an adult, and the return one is €2.80. Children, Malta ID-card holders of 60+ or those with the Blue Badge, a particular document for people with disabilities, travel for €0.50 or €0.90 for a return ticket.
Frequent travellers can buy cards:
€10 for a week;
€100 for three months;
€175 for six months;
€300 for a year.
A ferry trip from Gozo to Valletta costs around €7.50 for an adult and €3.00 for a child from four to ten.
Taxi costs around €5 for a start and €2 per km. For example, a ride from Valletta to St Julian's may cost from €19 to €25, depending on the taxi service and the type of vehicle you choose.
Gasoline costs about €1.35 per litre in Malta in 2022.
Healthcare expenses for expats in Malta
Life expectancy at birth was 82.6 years in 2021, which is quite a high value. To a greater extent, this is the merit of the country's high-quality healthcare system.
Health insurance. Each foreigner residing in Malta must buy health insurance.
For example, to get a Malta permanent residence permit by investment, each applicant must have insurance covering a minimum of €30,000 in medical expenses. Such a certificate costs around €400, depending on the applicant's health and age.
Medical expenses. If the insurance is no longer valid for some reason or doesn't cover the exact procedure, an expat pays for themselves. A doctor's appointment costs €10 to €60, a general blood test is about €20, and the ultrasound is €50 to €200.
EU citizens residing in Malta can get necessary treatment in Maltese public medical facilities for free.
Treatment for Malta citizens is free in the country's public hospitals, and they still have to pay for treatment in private medical centres.
Malta is a part of the EU, so its citizens get an additional benefit — the European Health Insurance Card (EHIC). It allows them to have necessary treatment in other EU countries at the same cost as for people insured there.
Education prices in Malta
Schools and kindergartens may be free for foreign children if their parents have residency and a work permit in Malta. In other cases, expats pay for education in private facilities.
Preschool and secondary education. A month in a private kindergarten in Malta costs around €350 to €400. A year in a private school costs €8,000 or more.
Higher education is always paid for by foreigners. A year in one of Malta's universities usually costs €5,000 to €35,000, depending on the learning area and the degree one gets. Medical training is the most expensive one.
Diplomas of Maltese universities are recognised in the EU and some other countries, so yesterday's students can find a job abroad if they wish.
Language courses. Malta is an English-speaking country that is popular among foreigners who learn the language. A standard 2-week course with 20 lessons a week usually costs €350 to €500.
Other expenses for expats in Malta
Clothing. A shirt in a mass-market chain-store costs about €20—€40, a pair of jeans or trousers may be €30—€80, and dresses are €20—€150, depending on the brand, fabric, and other details.
Mid-range sneakers or business shoes usually cost €80 and more.
Fitness. A monthly fee for attending a gym or a fitness club in Malta is about €60‑€100. It depends on the club and the term of your membership.
Leisure time. A cinema ticket for an adult costs about €9, and a family pass is €20 or more. Tickets for children are cheaper.
Yachting is a popular leisure time activity in Malta. Renting a yacht or a motorboat for a day costs €30—€1,500. Also, Malta is a good place for diving; a course for beginners costs €40 to €500 depending on its duration and programme.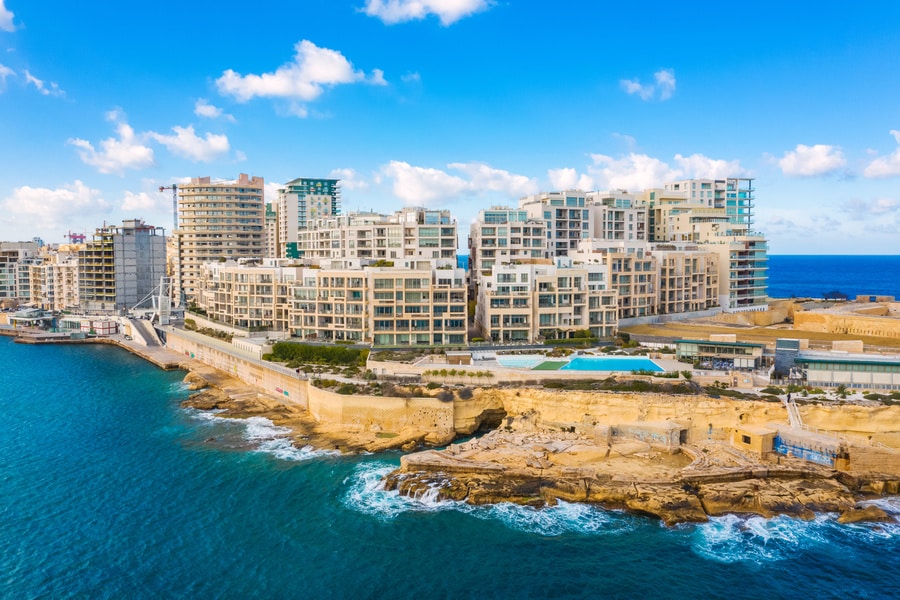 Is it cheap to live in Malta compared with other EU countries?
According to Eurostat, overall consumer prices in Malta in Malta are lower than in Cyprus, Germany, Austria, France and some other EU countries. Some goods may be more expensive in Malta than in other countries of Southern Europe, but living there is more affordable than in most states of Eastern and Northern Europe.
To live in Malta, a family of four needs about €2,700 a month, excluding rent, and €750 may cover the expenses of a single person.
A comparison of average prices in Malta, Spain, Germany, and Denmark
Item
Malta
Spain
Germany
Denmark
Groceries and eating out
Milk, 1 litre
€1.01
€0.82
€0.96
€1.47
A loaf of fresh white bread, 500 g
€1.14
€1.01
€1.70
€2.54
Eggs, a dozen
€2.50
€2.07
€2.52
€3.68
Apples, 1 kg
€2.61
€1.80
€2.44
€2.68
Meal for two in a mid-range restaurant
€60.00
€50.00
€50.00
€80.68
Housing
Renting a 1‑bedroom apartment in a city centre
€816.58
€736.37
€871.66
€980.79
Buying an apartment in a city centre, price per square metre
€3,475.16
€3,228.46
€6,792.62
€4,772.05
Basic utilities per month
€90.21
€124.38
€243.31
€177.27
Transportation
A monthly pass at a regular price
€26.00
€40.00
€70.00
€67.23
Taxi, 1 km
€2.00
€1.10
€2.00
€1.88
Consumer prices in Malta are quite stable due to Eurostat. In April 2022, price growth in Malta since 2015 was 12.5%, which is lower than in some other European countries — for example, Norway or Germany.
How to obtain Malta residency?
To live in Malta, one needs an official status — a residence permit or citizenship. Investors may obtain those if they contribute to the country's economy; some of their family members can also be included in the applications.
Malta residence permit may be granted to an investor under the Global Residence Programme. An applicant must rent housing for €8,750+ annually or buy a property for €220,000 and pay an administrative fee of €5,500 or €6,000, depending on the property's location.
Also, investors pay taxes under a special regime:
15% on foreign income transferred to Malta; the amount of tax must be not less than €15,000 annually;
0% on foreign income that was not transferred to Malta;
35% on income earned in Malta.
Residence permit holders are not obliged to live in Malta but must spend less than 183 days a year in any other country to maintain residency.
Malta permanent residency by investment is obtained under the Malta Permanent Residence Programme. This route allows one to get a Malta PR card in several months: the application processing time is 4—6 months, and some time is needed to prepare all the necessary documents.
Investors buy or rent housing for five years to get permanent residency in Malta. The price depends on the region where the property is located.
Minimum prices of rent or purchase of a real estate in Malta under the MPRP
| | | |
| --- | --- | --- |
| Region | Renting housing for five years, the annual cost | Purchasing real estate |
| Southern Malta and Gozo | €50,000+ | €300,000+ |
| Other regions | €60,000+ | €350,000+ |
In addition, an investor pays:
An administration fee of €40,000.
A contribution of €28,000 if they buy real estate or €58,000 if they rent it. An additional €7,500 is paid for each parent and grandparent in the application.
A charitable donation of €2,000
Malta PR is a life-long status. It allows one to live in Malta and travel to the Schengen Area for 90 days in 180.
Malta citizenship can be obtained for exceptional services by direct investment. This path includes naturalisation after one or three years of residency.
An applicant fulfils several investment conditions:
Buys property for €700,000 or rents it for five years for at least €16,000 annually.
Makes a contribution to a national fund of €600,000 or €750,000 or more, depending on the time of residency and family composition.
Makes a charitable donation of €10,000.
A Malta passport allows one to travel to 180+ countries visa-free, live in Malta or reside in another EU country, and give their family easy access to high-quality education or treatment.
Frequently asked questions
Is living in Malta expensive?
Life in Malta is quite cheap compared to the US, the UK and some other European countries — for example, Germany, Switzerland, Norway, or Denmark.
What is the monthly cost of living in Malta?
The cost of living for an expat in Malta depends on the family composition and having your own property. To live in Malta, a family of four needs about €2,700 a month, excluding rent, and €750 may cover the expenses of a single person.
Renting a 1-bedroom apartment may cost about €700—€1,000 in high-dense towns in the north or centre of Malta, and renting similar housing in Gozo is €400—€500.
What is the average salary in Malta?
How much is the income tax in Malta?
Malta income tax is levied at a progressive scale of 0 to 35%. The tax rate depends on the income amount, marital status and whether the person is a Malta tax resident or not.
How much is the property tax in Malta?
What is the average price of a square metre of housing in Malta?
Is it easy to immigrate to Malta?
The most convenient way to immigrate to Malta is to get residency by investment.
Malta Permanent Residence Programme allows one to obtain Malta PR, which is a life-long status. Investors buy or rent real estate, make contributions and pay fees. The application processing time is 4—6 months.
Also, investors may obtain a residence permit in Malta with a special tax regime or apply for citizenship for exceptional services.
What do you need to live in Malta?
What are the benefits of living in Malta?
There are several benefits of living in Malta, and these are the main ones.
Affordable cost of living, which is lower than in the US, in the UK, or in some countries in Western or Northern Europe.
Climate. Malta has a warm Mediterranean climate, and a lot of sunny days in summer allow locals to enjoy swimming in the sea, diving, or sunbathing. 
Safety. According to Eurostat, 66.4% of Maltese residents believe the country is very safe. The share of the population reporting crime or vandalism in the survey was 11.4%, which is lower than in the Netherlands, Sweden or Spain.
Good healthcare and education. Expats buy health insurance and may get treatment in Maltese clinics. The medical services there are of high quality and are cheaper than in some other European countries.
Children may attend universities in other EU countries after Malta schools without additional preparation courses. And the diplomas of Maltese universities are recognised in the EU.